Robotic Entertainment Solutions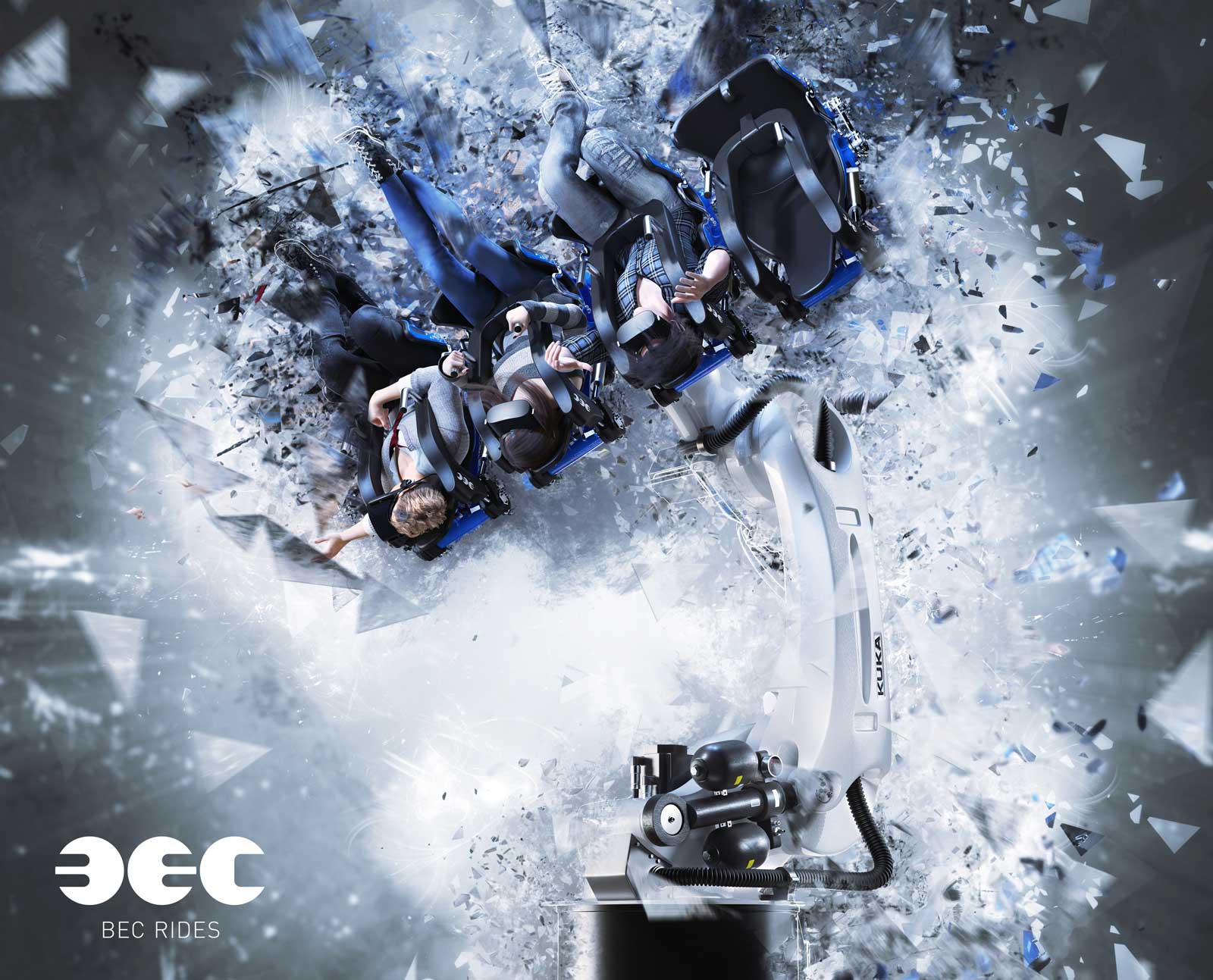 Robotic Amusement Park Rides
Experience the wide variety of almost unlimited dimensions!
If we at BEC Rides discuss the dimensions of a coaster, we like to think outside the box and go beyond existing limits. Based on KUKA's powerful advanced robot technology, our entertainment solutions fulfill even complex client requirements to their optimum. BEC is a leader in robot innovation and the long-standing experience of our team allows us to design the best thrill ride experience on robots available. As a specialist for robot-human interaction we guarantee highest quality and safety for all our products. With careful designed systems and over a decade of experience in the robotic business BEC designs products for maximum customer satisfaction. Based on our virtual reality simulator technology, we develop outstanding vr experience for robot entertainment rides.
Outstanding Immersive Adventures
Since 2004 BEC integrates robots in motion simulators for dynamic pilot training, driving simulators and virtual reality research. This high-end technology is now being used for designing top class robotic virtual reality rides! The BEC motion paths development software creates extremely immersive rides with lowest system latency while operating at the highest safety level. With an exceptional motion range and 6 degrees of freedom robots are the perfect platform for developing very immersive and realistic VR rides. The certified service-proven technology also allows upside-down motion profiles and different rides can run on the same system. All systems can be presented as a single robot or arranged in a multiple robot array.
The Next Level Of Virtual Reality Experience
Intensive - Very immersive and realistic rides
Robust - Certified service-proven robots
Hygienic - Clean, exchangeable headsets
Accurate - VR and Robot motion perfectly synchronized
Immersive - Industry leading virtual reality quality
Interactive – Riders can control the ride
Spectacular - Upside-down motion profiles
Category: VR Ride / Sci-Fi | VR Headset: Oculus Go | Duration: 3:30 min | Robots: 3P6DOF / 3 Pax. or 4P4DOF / 4 Pax. | Preview
Story: You are the co-pilot of a spaceship on Terrastella, a planet out on the far reaches of the galaxy. Today's mission sounds like any easy job - escorting a transport. Apparently, the cargo is not only extremely valuable, but possibly even very dangerous and of great interest for others. The chase is on…
Virtual Reality Ride Development - Does your company provide Virtual Reality Content and do you want to use robots as a unique motion platform? We can help you to transform your VR-Ride experience in short time into a robot ride. Without latency and the risk of motion-sickness. The time to get your IP on board is NOW.
Exceptional Robotic Theme Park Rides
Customized Robot Coasters
BEC Rides provides solutions that meet the demand for innovative entertainment systems. Our products make excellent crowd-pullers at amusement parks, great attractions in shopping malls and become highlights at trade fairs. Contact us to find out more about our robotic ride solutions and benefit from our experience and innovative strength. BEC Rides uses certified KUKA robots with 4 and 6 degrees of freedom and offers multiple integration options - robots can be integrated in a stationary position, in mobile transportation rigs or on a carriage as part of a circuit.
Based on the proven KUKA robot technology BEC Rides has designed a brand new seat system for robotic thrill rides. The new system boosts up the capacity of the robot entertainment system to three passengers on a six axis robot and four passengers on a four axis robot. The robot ride system allows a straightforward certification of the setup and makes part inspections and maintenance easy and comfortable. The ride also allows creative modifications and additions like customized coating, controls for interactive rides and HMD integration. Besides predefined fixed ride profiles we also offer to integrate virtual simulations using VR classes or projection domes and also interactive features.
BEC Rides - System Overview
BEC Ride 3P6DOF
Robot KUKA KR 600 passenger, 6 degrees of freedom, comfortable seating for 3 passengers, fence with 2 security gates, control panel for ride operator, 5 fix motion profiles, TÜV vertified system (ready for CSEI certification), brake release device and evacuation package.
BEC Ride 4P4DOF
Robot KUKA KR 700 passenger, 6 degrees of freedom, comfortable seating for 4 passengers, fence with 2 security gates, platform for passenger loading, control panel for ride operator, 5 fix motion profiles, TÜV vertified system (ready for CSEI certification), brake release device and evacuation package.
Some of our customization options, available for all BEC Rides: Mobile platforms for flexible ride transportation and easy setup, customized ride profiles (e.g. if less than motion range is required), multiple robot installations, VR/AR integration with head mounted displays, VR/AR integration with projectors, Movie rides with real visual and motion data, ride integration of 3rd party content, Customized ride development, Interaction with other robot applications, Rides solutions with passenger interaction.
IAAPA Expo Asia
9-11 June 2020
Macau / China
Euro Attraction Expo
15-19 September 2019
Paris / France
IAAPA Expo
19 - 22 November 2019
Orlando, USA